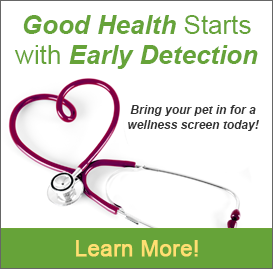 At Paws, Purrs & Exotics Animal Hospital, we believe in prevention and early detection. Semi-annual wellness examinations, vaccinations, intestinal parasite screening, and blood parasite screening, are the hallmarks of a well-rounded preventive program. But there is a missing piece to this puzzle, the wellness screen.
A wellness screen usually consist of a series of tests that are performed once a year, along with the annual or bi-annual wellness exam. These tests are used to not only detect early signs of disease, but also helps to provide a baseline for the veterinarian. We are happy to answer any questions you may have about wellness screening!
We are offering a basic wellness screen package until December 31, 2016. This package includes a serum biochemistry profile, complete blood count, and a urinalysis for $99. So bring your pet in today, and give them a better chance at a longer, happier, healthier life!