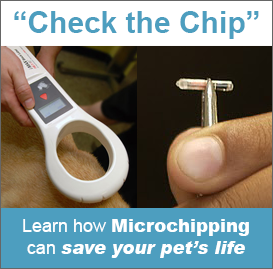 After a successful checkup, Miles' veterinarian talked to his owner about the importance of microchipping. His owner insisted that Miles was under constant supervision, and decided that microchipping him was not necessary. A few weeks later, Miles was let into the yard for a bathroom break. The owner went inside to answer the phone, and was only gone for a brief moment. In that short period, Miles found a small opening in the fence and escaped. The owner searched desperately for weeks, posting "Lost" flyers and checking shelters and hospitals, but unfortunately there was no sign of Miles.
We hear stories like this far too often. Microchipping your pet gives them a better chance of reunification, in the event they are lost or stolen. The veterinarians at Paws, Purrs & Exotics Animal Hospital strongly encourage microchipping, because we know how important it is for you to keep your pet safe and sound.
Bring your pet in until December 31, 2016 to get microchipped, and take $10 off and free lifetime registration, a $30 value! We can also microchip your rabbits, guinea pigs, reptiles, and more, just ask! For more information, please visit AVMAs faq page or give us a call. We are happy to help!